DIGITAL DISPLAY ADVERTISING is where it all began for WebAds in 1997. It was the only way to monetize traffic for publishers in the beginning of internet advertising. Since then the digital display advertising landscape has gone through a lot of changes.  From a simple banner display, to the complex world of programmatic buying (automated trading) as it is today.  Today we have built a network with a high level of experience in the geographic markets in which WebAds operates with a long operating history and market knowledge.
WebAds offers a deep and broad publisher network and consumer demographics. We are technologically driven and are more advanced than competitors with a leading publisher platform and the ability to integrate efficiently with ad networks. By doing so WebAds is a reliable partner with a loyal group of publishers, where we have adopted a leading role in the coordinated development of digital displays with a focus on quality placements with high viewability, yield optimization and overall improved added value. With over 30 million unique visitors and 2 billion impressions Europe wide we provide daily proof of our commitment to quality.
WebAds is also a strategic partner for advertisers and agencies. We are helping media-buyers to get the most out of their campaign. We offer all current targeting options and highly interactive formats on desktop, mobile & in-app placements. We are able to create strategic partnerships where we all benefit from our existing European footprint with accelerate growth through technology innovation and shared industry knowledge.
Programmatic buying and Real time bidding
Programmatic buying is a way of buying display inventory. It allows advertisers to send out a bid per impression on a specific placement. Multiple advertisers can bid at the same time for the same spot. The highest bid wins. The biggest asset is transparency for the buyer. With the spends growing day by day on Real Time Bidding (RTB) we can really be at value for our publishers which might not have the time nor resources to setup their title for RTB.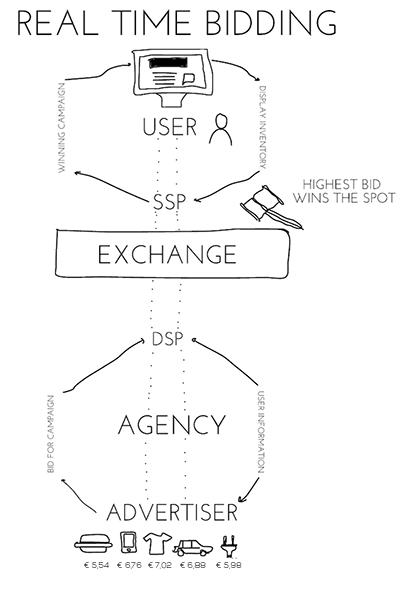 Verticals – Channels
The WebAds network consists of a variety of prime sites. Some very attractive because of its huge volumes and broad target group, others because of its special interest or specific audiences. We have divided all websites into channels and therefore are able to offer run of channel / interest packages at sharper rates. Some of the channels where our advertisers purchase cost effective campaigns are:
News and Entertainment
Business and Finance
Beauty and Fashion
Sports
Weather and Traffic
Lifestyle
Automotive
ICT and Innovators
Data and targeting solutions
Increase effectiveness of your campaign and get more qualified and interested visitors. WebAds offers various targeting options and data to be able to setup retargeting remarketing campaigns.  We can setup frequency caps, Geo targeting or even targeting depending on live events like the weather.
WOULD YOU LIKE to know more about our Display advertising solutions? Please contact your nearest WebAds office!