Successful start in Italy: UPDAY with more than 3 million users
March 2018 – After only 11 months, UPDAY for Samsung, Europe's biggest news service with more than 20 million monthly users in 16 countries, has successfully established its presence in Italy. In February 2018, UPDAY reached over 3 million Italian users (source: Localytics) and had already enabled large advertising campaigns.
For example, in December 2017, premium car manufacturer JAGUAR successfully ran its pre-launch campaign of E-PACE model on UPDAY, taking advantage of the news service's ability to address clearly defined audiences. In cooperation with WebAds, the largest independent publisher's sales house for digital media in Europe, and Mindshare Roma, UPDAY specifically targeted users interested in sports, cars and fashion for JAGUAR's campaign. The full-screen native ads were seamlessly integrated into UPDAY's media stream and generated more than 3.9k clicks in less than two weeks with a CTR considerably above industry standard.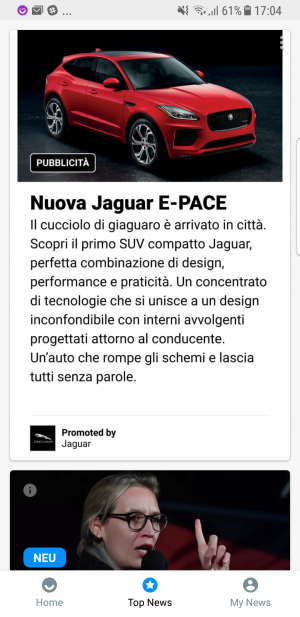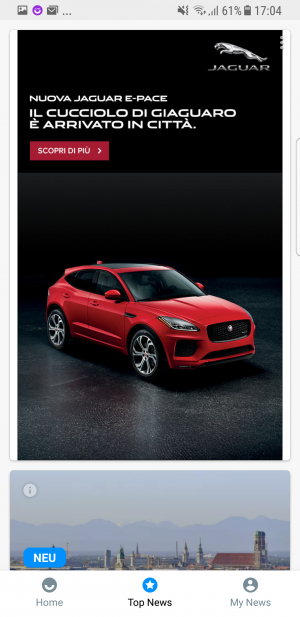 UPDAY, launched in Italy in March 2017, links professional journalism with a learning algorithm: In the TOP NEWS section, a team of professional journalists curates the most important stories of the day relevant to all UPDAY users. The MY NEWS section is algorithm-based and displays news according to the users' individual preferences. Due to human curation and a team dedicated to quality checks of media sources UPDAY is a brand-safe environment nearly free of fake news. In Italy, the news service covers more than 350 media sources. Apart from native advertising, UPDAY offers display and video ads as well as brand stories that are individually created by UPDAY – always tailored to the specific markets and audiences the advertisers wish to target.
Aneta Nowobilska, Director Advertising of UPDAY, states "From our advertising partners across markets, we hear that UPDAY with its premium and brand-safe environment is a great communication platform for national and international brands. Knowing our users' interests enables us to reach precisely those individual target groups that our clients want to address. In Italy, the high click-rates and user engagement of JAGUAR's E-PACE campaign demonstrate how our targeted native ads can contribute to our clients' success."